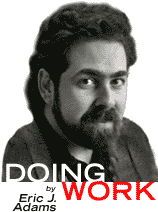 About Eric J. Adams
Writer With Many Causes
Creative schizophrenic Eric J. Adams is guilty of dabbling in any arena that can be considered, well, fun. He's the author of three suspense thrillers, two travel books, and a book for very young children experiencing the divorce of their parents (co-authored with his therapist-wife), due in the Summer of 2000. He's also written six screenplays, three of which have won awards at major screenplay competitions, and four of which have been optioned by major Hollywood production companies. None, unfortunately, has seen the light of the big screen.
But that's not where he makes his money. Adams is executive director of MediaBank Communication, a community of Web and print professionals that creates Web content, brochures, collateral material, and advertising copy primarily in the fields of technology, finance, travel, and entertainment.
He also writes regularly for a variety of computer, business, and travel magazines. And he proudly does it all without taking Prozac.