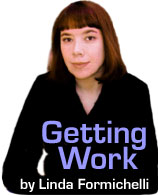 Columns by Linda Formichelli:
List all of Linda's columns
Visit our other Getting Work columnist

About Linda Formichelli
The Persuasion Lady
Marketing is all about persuasion -- and Linda Formichelli knows how to walk the walk.
First she persuaded U.C. Berkeley to let her into their graduate program in Slavic linguistics. Two years later -- when she realized that not even her super powers of persuasion could make Slavic linguists a hot commodity -- she persuaded her part-time employer to transfer her to the Netherlands branch, where she spent six months writing and editing marketing materials meant (of course) to persuade businesses to buy her employer's product. Upon returning to the U.S., Linda started her own writing business, persuading companies to use her services and persuading consumers to shell out for whatever it was that her clients were pushing.
Besides beating certain words to death, Linda loves being an independent professional -- choosing who to work with, taking off mid-week to see the fall foliage in Vermont, and putting forth a professional phone demeanor while wearing her jammies.
Linda has written for such high-profile clients as Bay State Gas, Pizzeria Uno, and The Candle Beach Company, and for more than fifty magazines, including Details, Family Circle, Cats, Zillions, and Nation's Business. Topics she's written about range from high-efficiency gas-fired boilers to how to peel a banana. Check out Linda's Web site.