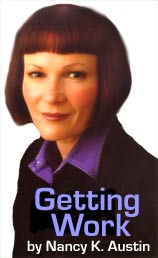 Columns by Nancy K. Austin:
Everyone's a Critic... Even You
List all of Nancy's columns
Visit our other Getting Work Columnist
Just Say Thanks
Every IP should know how and when to say thanks. You'd think, wouldn't you, that such a simple, low-tech corner of business etiquette couldn't possibly win that many friends and influence that many people, but boy oh boy, does it ever. For starters, the humble thank-you note shows more than mere manners, it suggests real marketing imagination. A well-constructed thank-you letter is the perfect follow-up to a meeting or a sales pitch; it puts a nice finish on things and it gives you the chance to call and write and generally keep communicating. It proves that you pay attention. It's the perfect way to wrap up a project and cement your top-notch reputation. It's quick, responsive, cheap, and surpassingly effective -- shoestring marketing. People remember thank-you notes (and the people who write them) because good ones are so rare.
The real point of the exercise, of course, is to spread word of your business. It turns out that a huge part of getting folks to groove on your work is to be: 1) stunningly good at what you do; 2) trustworthy; and 3) unfailingly courteous. Now I can't help you with the first or second points, but I can say a few things about the third. Courtesy, consideration, and good manners count, even in this hepped-up Internet economy of ours. It's not about knowing which fork to use (study your place setting and eat from the outside in), or when not to shake hands with somebody (when the other person's got a drink in one hand and an egg roll in the other -- just nod hello), or even how to handle a business trip with clients (show up early, let the Big Cheese board the plane first, and schlep your own bag). It's about paying attention to the people you're working for, and with. It's about engaging.
As for me, I got into the particular habit of writing little thank-you notes to clients after a speech or a meeting. Nothing over the top, just something short, personal, and specific, like "Thanks for your help with that audio-visual glitch," or "It was your call that did the trick in getting me in to talk with Ms. Jones, who helped me understand your industry and your competitive position." Another note, written after a rowdy sales meeting, went like this: "Your sales meeting was one of my favorites because everyone had a good time, and worked hard, too. What a talented bunch! I've never seen such energy poured into breakout sessions, and the presentations given by each team were first-rate. The marketing plan the Neophyte Team came up with was one of the best I've seen. And how did the paintball competition turn out?"
I always brought my own notecards with me (I can't stand those putrid form letters), wrote them on the plane, and mailed them from my next stop. No engagement seemed complete until I'd done my notes. I did it out of pure courtesy and a need to connect after my project was over, but what I didn't count on was how well those personal notes would feed and water my business.
There's a big, lively grapevine out there, and it's always buzzing. After an important presentation, it can be truly deafening. Oh, some people will like you and some won't, but they won't focus all that much on what you said, anyway. What travels the grapevine is news of a very different sort: Are you a pompous smarty-pants? Did you bring sunshine, or did a cloud hang over your presentation? Did you care about this assignment, or did you just phone it in? And what's the deal with the hair? If you want to succeed, you need to think about the impression you make.
Here's an example of what buzz does. Even when things weren't perfect -- it could have been something I said, or it could have been my latest haircut -- writing the notes helped me connect with clients in big, powerful, and sometimes astonishing, ways. Once, to my horror, I had to turn a thank-you note into an expression of regret. It had been an especially chaotic meeting that had been running late from the start. My presentation was slated for somewhere in the middle, so I knew I'd be behind schedule even as I stepped to the microphone. Well, on top of that, I ran about ten minutes over -- the worst thing I could have done. The poor meeting planner was frantic. My note said: "This is the hardest letter to write because I knew you were especially worried about the timing this morning, and I let you down. I sincerely apologize. You can bet I'll be working hard to make sure this doesn't happen again. Thank you for being so gracious." In a situation like this you don't want to grovel, but you do have to face the music.
The really interesting thing is that this reverse thank-you note actually built a lot of goodwill. A client who almost certainly would have hated my guts actually became, if not a diehard supporter (let's face it, I wouldn't be her first draft pick for the next meeting), then at least a colleague who forgave my gaffe and who might give me another shot someday. If I'd skipped the mea culpa, there'd be nothing but hardened ill will -- not good where word-of-mouth marketing is concerned.
I still get calls from clients who say they've never received a thank-you note before and thought it was so… nice. The best part was that those notes were often the first step to bigger conversations and more work and more conversation after that. I cared, I took an extra step, and those clients appreciated that. Then, too, the notes made me stand out; together with a valuable outcome -- a great speech, a terrific consulting engagement -- it added up to a memorable, unbeatable advantage.
Plenty of people still believe that real business pros don't stoop to say thank you -- at least not the ones who end up with their names in light. Well, it's not true. Word gets around, you know?