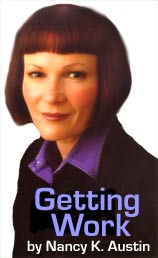 Columns by Nancy K. Austin:
Everyone's a Critic... Even You
List all of Nancy's columns
Visit our other Getting Work Columnist

Straight to Video
Like it or not, we live in a wild new televisual world -- and if you really want to impress your tube-fed clients, you should consider making a promotional video. Why? A smidgen of Hollywood is becoming as indispensable to everyday marketing as good old conventional fare, staples like direct mail, cold calls, Web sites, the Yellow Pages, and word of mouth. For one thing, a video press kit stands out in a world awash in printed press kits by obeying the cardinal rule of marketing: the requirement to be distinct, to deliver something special that gets noticed. If you can't do that, you'll never earn much, either. And as technology continues to bound ahead, video press kits will multiply. They're already sleeker, more portable, and simpler than their clunky cardboard predecessors. And video's versatile. You can do more with video than with printed press kits, sometimes for less money, especially if you need to regularly update your marketing materials. Finally, video allows you to make a personal pitch without ever stepping out of your office. In short, you'd be crazy not to start thinking about how to pounce on this new way to market yourself.
A promo, or press kit, video is short -- two to seven minutes, tops -- and it hurtles along, the better to hold a viewer's fickle interest. Like its printed cousin, a promo video goes out to people you want to inform about your services, or who've asked you for more information. The promo video is a sophisticated sales vehicle that can be loaded up with eye candy like digitally created sets, MTV-style camera angles, soundtracks, cool graphics, and animation. Depending on how many goodies you throw in, a professional video, even a ten-minute one, can set you back $15,000 to $30,000 or more. I'm delighted to report, however, that if you can shoot halfway-decent home movies, you can make a lively, useful promo video for far less. You'll need to get your hands on some basic equipment, of course, and know what to do with it, but with planning, practice, and preparation, you can shoot like a pro and bring in a video for well under $2,000. "Money," says Eric Thiermann, Academy Award-winning documentary filmmaker and president of Impact Productions in Santa Cruz, California, "doesn't always give you a better product."
If you want to understand what it takes to make a successful marketing or press kit video (i.e., one that gets you work), a good place to start is with the three hallmarks of this creative process: Pre-Production, Production, and Post-Production.
Pre-Production: What's Your Story, And How Do You Tell It On Video?
That's the big question, one even a casual videomaker has to answer right off the bat. According to Videomaker Magazine, the source for everything a neophyte videographer could ever want to know, pre-production "can be as elaborate as full-scale scripting, casting, and location scouting. Or it can be as simple as seeing that your batteries are charged." Okay, I'm all for simple. Where do you start? You could begin by renting a high-quality 8mm (1/3 inch) camcorder, like Sony's Hi8, with tripod, and a separate microphone (a must) for about $100 a day. A VHS-format camcorder rents for about $30 a day, but picture quality's going to be a problem; go for the VHS-C instead. Of course, you could take the plunge and buy your own camcorder. You can find a basic, perfectly serviceable model with popular features for $300 to $600. The souped-up Hi8 format sells for $600 to $1,200 and up, and professional camcorders start at around $7,000 and leave the stratosphere after that. Veteran filmmakers say that you shouldn't try to do without two extras: a spare battery ($45) and a clear UV filter ($20), to protect the lens. Stick with big brand names for the best, most reliable camcorder performance.
The camcorders I've mentioned are all analog (traditional) models, which are the most common and least expensive. In a few minutes, we'll talk about computer editing, which requires a digital (rather than analog) video signal. You can translate between them by buying an analog-to-digital converter -- but, while you're still in the camcorder-buying stage of this project, you might decide to pony up a few extra bucks and buy one of the new digital camcorders. You'll get better quality, and it'll be much easier to get the signal into a computer for editing later (basically you just connect the digital camcorder to the computer with a cable -- assuming they share a common cabling protocol, like FireWire -- no converter needed).
How about a script? Some videos, like training programs, require word-for-word roadmaps. You probably don't need to go that far, but even your humble video will benefit from a story, a single galvanizing idea. "You need to know what you're trying to convey," Thiermann says. "Content is the most important thing to get across." Once you think you know what you want to say with video, write it down. (Index cards, one idea per card, work well.) Sometimes a short narrative summary of your video is enough, but other projects require more detail, say, a storyboard -- sketches or chunks of description arranged in sequence, outlining the shots you'll make. Move them around like dominoes until you have a solid grip on a coherent story.
Production: Can You Go It Alone, Or Is This One Job You Should Leave To A Professional?
"If you can get a friend to shoot your video for you, then do it," film producer Thiermann says. "If you have content, then pictures and sound aren't quite so important. But if they look and sound really funky, it does reflect on you." Sound, maybe surprisingly, is crucial. People will put up with flawed visuals if the audio's good, but lousy audio and beautiful images render a tape utterly unwatchable (or, I suppose I should say, unlistenable). That's one reason why everybody agrees that the advice of a seasoned pro is hugely helpful when it comes to sidestepping obvious pitfalls, and can save you big bucks later. That expertise is pricey: Thiermann charges $150 an hour for his time, whether it's spent in consultation or actually shooting or editing.
Impact Productions, Thiermann's company, also offers special training for amateur videomakers, and for most of us, that's a great way to go. Eight hours of hands-on in-studio training, from shooting through editing, runs $200. If you bring in your raw footage, you can expect to walk away with an edited project, complete with titles, by the end of the day. For more advanced videographers who need technology more than tutoring, one of Thiermann's state-of-the-art editing bays can be had for $50 an hour. Or you can work side by side with a full-fledged film editor for $125 an hour, "a good rate because they're all so extremely fast," Thiermann says. Producers will sometimes accept barter arrangements, depending on workload, so it pays to check that out early.
Sniff around. Take a close and careful look at the producer's prior work. Make it clear how much you can afford to spend on this project, and ask the prospective producer to show you what he or she can deliver at that price. And don't let anybody sweet-talk you into anything. You might swoon over a dazzling demo tape, but Thiermann says that if you poke around a bit you may discover that the person who produced it no longer works for the production company or that the work was farmed out.
One underused source of production expertise is wedding and event videography, a niche that also includes class reunions, family get-togethers, and other schmooze-fests, and is dominated by well-equipped entrepreneurs. Cassandra Bellantoni, executive producer and owner of Media Vista Productions in San Jose, Calif., says event videographers are a better choice than just hunting for cheap talent at your local cable television station or film school. "The school or station still has to meet its out-of-pocket costs, so you'll pay some charges," she says. You might luck out, she says, "but this work takes experience. Although they're creative and funny, students' production quality -- editing, lighting, audio -- is always poor."
Post-Production: What's Editing, And How Much Of It Do I Have To Do?
Video editing is like writing: it's a process of adding and deleting, picking and choosing, arranging and rearranging raw footage to create a final product that carries more impact than just showing the tape as it came out of the camera. This process is a perfect blend of art and science. New technologies have put editing on your desktop, within reach of people who aren't exactly film school graduates.
In-camera editing is a possibility, but that means you have to shoot everything in sequence on your original tape. Then (theoretically, anyway) all you do is shoot, stop the camera, rewind a little bit, and start shooting again. Trouble is, it doesn't have a professional look, something you can accomplish with digital nonlinear editing, which is another way of saying: use your computer to edit your video. (Here's where you'll need either a digital camcorder, or a converter to turn the traditional camcorder's signal into something computer-friendly, as I mentioned earlier.)
The pros all recommend the same software, Apple's powerhouse Mac-based system called Final Cut, but at $1,000, it's expensive. Ditto Adobe Premiere ($995), billed as the granddaddy of desktop video editing software. One affordable desktop package is Avid Cinema, and at about $100, it's ideal for beginners. Avid leads the industry in high-end editing systems; its low-end software walks you through everything from storyboarding to special effects. You don't have to be a techie or know anything much about film editing to work with the program. Of course, this beginner's software might not provide you with the kind of results you can get with a pro. In the end, it may simply be cheaper, and more efficient, to buy an editor's time (anywhere from $125 to $350 an hour).
Your finished video is now a computer file. How do you get it into a form the prospective client can play back? If you have a digital camcorder and the client has a digital playback deck, both (probably) in the MiniDV format, you can transfer the finished video from your computer back into your camcorder (essentially using the camcorder as a digital tape recorder), pop out the tape, and send it to the client. That combination is still rare, however; you may not have a digital camcorder, and most client companies still just have a traditional, analog VCR (if that) with which to play back your masterpiece. In all likelihood, you'll have to bring your computer file (on almost any kind of disk or tape) to a video service bureau or transfer house, and have them write it out onto a traditional VHS tape. There's a good chance your prospective client will be able to play that back.
Finally, if you're going to shoot a video, you should invest in The Complete Idiot's Guide to Making Home Videos, by Steven Beal. (It's the next best thing to having a video producer next door.) Don't even think of tackling a video without it. You may not become the next Spielberg, but ending up with a video that lands you more clients wouldn't be so bad.