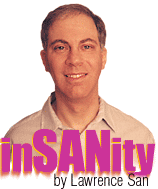 About San
inSANity columns:
The Better You Are,
The Longer It Takes
When The Bastards
Criticize You
Ugly Brides and Other Temptations
Will The Real Freaks Please Raise Their Hands?
The Fine Art of Kicking Yourself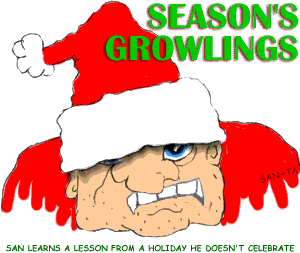 The suicide rate skyrockets around Christmas each year, and the conventional explanation goes something like this: Peoples' expectations of what the season is "supposed" to be like are high, the reality is often very different, and their family life (or lack thereof) is revealed in all its un-ideal, sordid detail when contrasted with the Hallmark-card image of the holiday. There may be a lot of truth in this explanation, but frankly, I wouldn't know. I don't need no stinkin' holiday in order to feel suicidal. Also, peoples' emotional images of Christmas are based primarily on their childhood memories. I grew up in a very non-Christian family in a working-class Brooklyn neighborhood, and my main childhood memory of Christmas is of the local gang members stealing colored lights off peoples' houses so they could throw them at non-gang kids-- including me. My deep images of the holiday have less to do with gifts-and-carols than with duck-and-run.
As a '60s hippie I ignored mainstream holidays, but years later, as an independent professional, I had to deal with them. Clients were sending me holiday cards, and I was sending diddly. (The marketing gurus all recommended "using" the season as an excuse to make or solidify contacts.) Competitors, I knew, were sending cards and gifts to clients and prospective clients. Vendors even sent me gifts: for example, a photographer (and fellow IP) to whom I gave a lot of business sent me a case of good wine each December. What was I supposed to do? Continue to ignore the season, at the risk of alienating the people (clients and vendors) whom I depended on? That seemed dumb. Swallow my cynicism and alienation, and pretend to be a normal guy sending out sappy stuff? Good grief. Not only did the thought make me nauseous, but everybody who knew me would have laughed if they got stuff like that from me. The problem was exacerbated by the field I was in: as an art director/cartoonist/writer, it seemed like there would be an implicit expectation that I create my own marketing materials-- including holiday cards -- and that they would be impressive. Off-the-shelf wouldn't cut it, and impressive custom stuff seemed like a lot of work, especially since I wouldn't be getting paid for it.
My solution was to create offbeat things each year. If business was good, I'd do some relatively quick, fairly tame, non-denominational cartoon card; when business was slow and I had more time, I'd sometimes create a multi-page comic strip that I printed up and sent out. It was a kind of multi-year series called "San's Seasoned Greetings." The essence of the strip was that it made fun of Christmas, and made fun of every religion I could think of (including atheism) and, incidentally, made fun of many ethnic groups as well. This was a long time ago, and I don't remember exactly what was going on in my head, but I suppose I thought that as long as I made fun of everybody's religion and ethnicity equally, including my own, everybody would take it in good fun and not get too offended.
The upshot? I lost almost all my clients, and even pissed off my friends.
Since I live in a kind of metaphysical haze, for a long time I didn't correlate the drop in business with the comic strips I'd sent out. For one thing, business went up and down anyway, and the total volume of my solo business, while big enough to support me, seemed far too small for meaningful statistical analysis or correlation. Also, the people who got the comic strips didn't bother to tell me they were offended; they just didn't call with work.
One day I happened to be sitting in the basement of an ad agency while a direct-mail art director (pretty near the bottom of the agency totem pole) idly leafed through the designs and illustrations in my portfolio. Such portfolio reviews were a common occurrence for me, a standard way I got work. The actual contents of my portfolio varied a lot (I swapped pieces in and out all the time), and I didn't even realize that I had, for the first time, placed one of my Seasoned Greetings comic strips in there. I was used to a wide range of responses from art directors, but I had never experienced anything like this guy's reaction when he saw the comic strip.
He exploded in rage.
"Let me tell you something, you little shit!" he screamed, while I sat there stunned. "I'm just a working-class Catholic guy from Lynn, and I've always hated wiseass big-city shitheads like you, but I've never had the opportunity to tell one of you before. How dare you! Fuck you, man! Fuck you and all your sick attitudes!"
"Um, does that mean you're not going to give me any work?" I quipped, trying to regain my composure.
"Get out!" he screamed. I got out.
There's actually a little moral to this... um... Christmas tale. (That is, in addition to the obvious point, which is that making fun of peoples' religions and ethnicities, even on an equal-opportunity basis, may not be the best way to win friends and influence people.) On later reflection, I realized that there's an ongoing dynamic tension between the desire to be original (or even to express one's true inner weirdness) on the one hand, and the need to get along in the conventional world-- which means, among other things, respecting conventional feelings of propriety and good taste-- on the other hand. Not that I'm prepared to abandon my true twisted self and become a walking Hallmark card, mind you. But, as a practical matter, I learned that edgy things should be shown to friends and other non-clients, and their feedback carefully listened to, before exposing said edgy things to the world. You don't have to tone stuff down just because people suggest that you do, but at least you should have some advance notice of what kinds of reactions you're likely to elicit, of what you may be letting yourself in for. Especially since people you've alienated often won't bother giving you feedback after-the-fact.
And so, in my current mature spirit of ecumenical good cheer... have a (gag, retch) nice holiday, lovers.